The Market is where it all Happens
This market was an early discovery in migrating to Thailand. It's a magnet for activity. Across the street are some of the cheaper farang bars where we'd play pool. It was exotic and created the paradigm shift of moving to a very foreign country. Behind the market was a dance school which may have closed now. I think you'll see the classic red Thai pants in one of the photos. There's lots of raw food, prepared food and a dry goods store and others. It's amazing there aren't more traffic accidents. There is a high death toll among drivers in Thailand but I believe it's because they don't wear helmets. There are frequently 4 or more people on a motorbike or motorbike with sidecar. There are motorbikes carrying huge cargoes.

The available fruits include many I was not even aware of - 20 types of bananas, several types of mangoes, rambuten, dragon fruit, durian, jackfruit... the list goes on and on. Then there are varieties of rice, there are local sweets (they have a high tolerance for sweet here), many chilled drinks and smoothies. Occasionally there are disabled people singing and playing musical instruments - people with deformities and severed limbs.

The parking is pretty much everywhere, mostly motorbikes. The motorbikes ride down the sidewalks. Once darkness falls, about 6 or 6:30 year round, bright bare bulbs light up the stalls.

Some of these leaves have a mild narcotic that people chew for enjoyment. There has been so much to learn here.
Location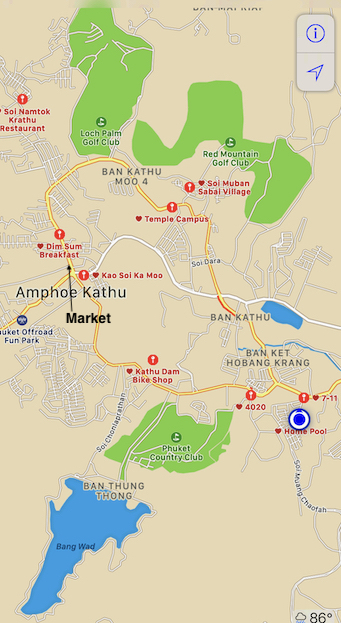 This market is located in an expat area of Kathu which is near two major tourist sites, but it is not a tourist site itself. Kathu has a large expat community. There were also bars for locals in the area, but they were not a comfortable place for foreigners. There was no English spoken.
The market has everything from prepared takeaway foods to hardware and dry goods to raw materials. There are butchers, fish mongers, dried foods, spices, snacks, entertainment. This is a place that Thai people shop with extras that foreigners adore. The core of the market is a metal roofed pavilion with a concrete floor. Along the street there is a long stretch of sidewalk carts that arrive at 2 or 3 in the afternoon. By 4 or 5 o'clock it is really bustling. There are bars and restaurants nearby that draw patrons from visitors of the market. The vendors are either farmers or those who directly produce these materials. This is not a market of a major chain type of store. What those people earn is what feeds them and their families.
Going to the market was a daily ritual. We always found something new and different from prepared food to fresh produce. We often took pictures to look up what we saw at the market when we returned home on the internet. There was so much produce that they had in Thailand that was not available in the US. Of course everything is written in Thai or there was no sign at all because everyone there knew. One of the fun spots to stop that was consistent at the various markets was the smoothie stand. There were many interesting varieties of smoothies including ovaltine, various teas with mint, banana, pineapple combinations. There were boothes on the road the sold special hot and cold drinks including Thai tea, Thai coffee, many other teas. It was poetry in motion as they prepared the drinks. They had cheese cloth in the shape of a sock which they used as a strainer. They heated the water on a gas fired burner and poured the water into the tea-filled sock into a cup. Then they had a process where they poured the prepared drink into an ice-filled to go cup and often added condensed milk to top it off.

There was also the ubiquitous altar complete with offerings to the gods. Often they had a red drink in a bottle with a straw in it. Below that was a food offering and some incense burning, maybe some flowers. There was a main altar at the market, but often there were little offerings in various places here and there. The spirit house gives the spirit who lived on the piece of land a residence once the land was taken for use by humans. It is a very fancy gold and red colored house with a ladder in front.
FAVdramaticsky_2130small.jpg

FAVall photos - 228 of 595.jpg

FAVmarket_1887.jpg

xsanger/FAVBWmarket - 62 of 595.jpg

FAVmarket_2643.jpg

FAVbarber_6423.jpg

FAVfishdryingmarket_7479.jpg

FAVbabyelephant_4123.jpg

FAVabouttown_2677.jpg

FAVall photos - 228 of 595.jpg

FAVmarket - 49 of 595.jpg

FAVmarket - 52 of 595.jpg

FAVmarket - 64 of 595.jpg

FAVmarket - 60 of 595.jpg

FAVmarket - 145 of 595.jpg

FAVmarket - 63 of 595.jpg

Kratom Leaf - FAVmarket - 143 of 595.jpg

FAVmarket - 144 of 595.jpg

FAVmarket01.jpg

FAVmarketflood - 200 of 595.jpg

The thunder grew louder and closer on the mountains. A few drops of rain tentatively touched the sidewalk between the food carts in the market. Vendors were rushing to get ahead of the approaching storm pulling canopies out on all sides so that it's hard to pass thru upright. I finished my shopping arrogantly ignoring the storm. I arrived at our standard restaurant to pick up my takeaway order. As I waited I noticed a man stop with his 7 year old son. They came into the restaurant that has no walls or windows. Patrons began to move toward the center of the building. The man pulled out a thin rainsuit and dressed his son. None for him, but he was certain to dress his son. We all rode away into the storm. I hit a deep puddle and became grateful I was a careful rider.

FAVmarket_1823.jpg

FAVmarket_1831.jpg

FAVmarketscenes - 255 of 595.jpg

FAVmarketscenes - 256 of 595.jpg

FAVmarket_1818.jpg

FAVmarket - 53 of 595.jpg

FAVmarket - 58 of 595.jpg

FAVmarket - 66 of 595.jpg

FAVmarket - 72 of 595.jpg

FAVmarket - 103 of 595.jpg

FAVmarketscenes - 175 of 595.jpg

FAVmarketflood - 204 of 595.jpg

FAVmarketflood_1958.jpg

FAVmarketscenes - 168 of 595.jpg

FAVmarketscenes - 169 of 595.jpg

FAVmarketscenes - 176 of 595.jpg

FAVmarketscenes - 185 of 595.jpg

FAVmarketscenes - 186 of 595.jpg

FAVmarketscenes - 241 of 595.jpg

FAVmarketscenes - 244 of 595.jpg