Cambodia 1
==>Cambodia 3
Homeland
Cambodia - Angkor Wat temples
Sites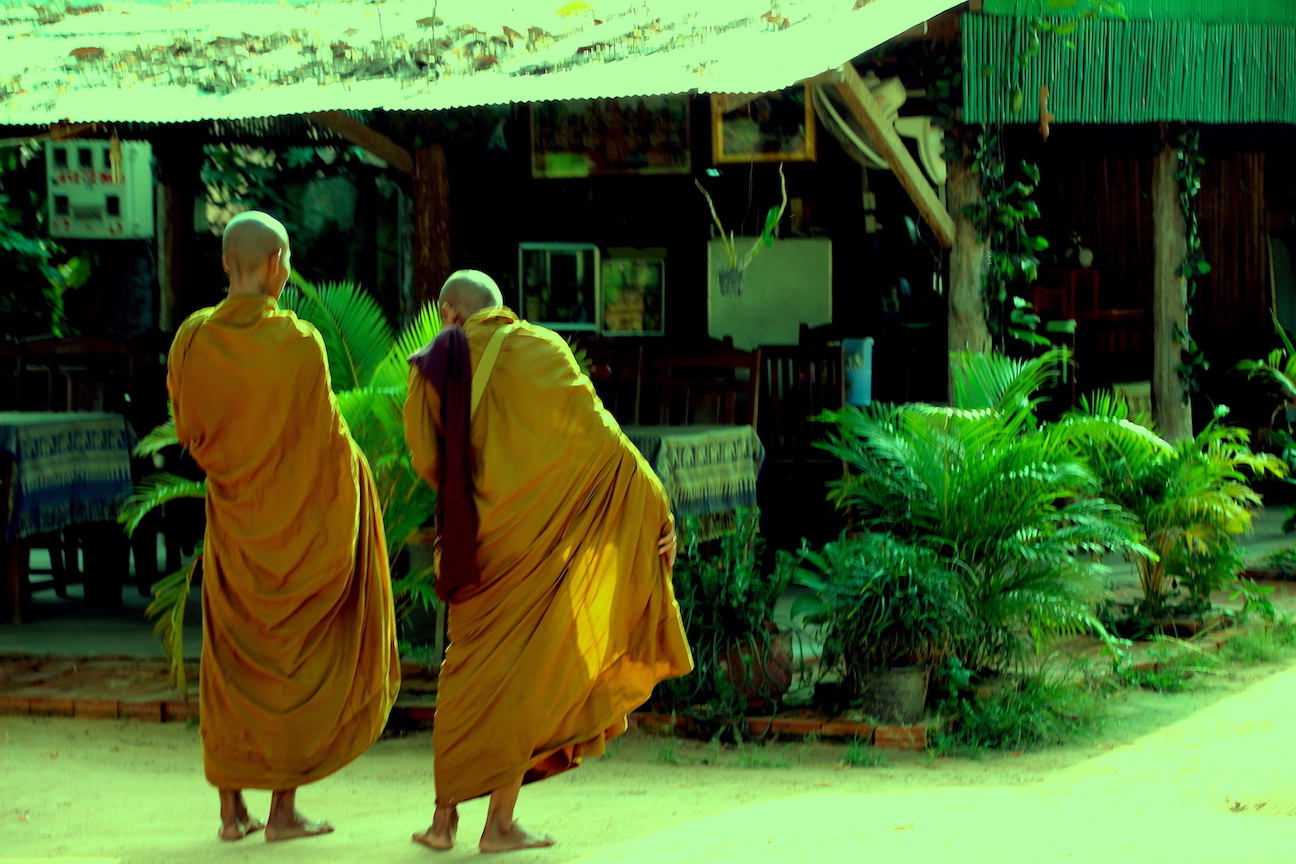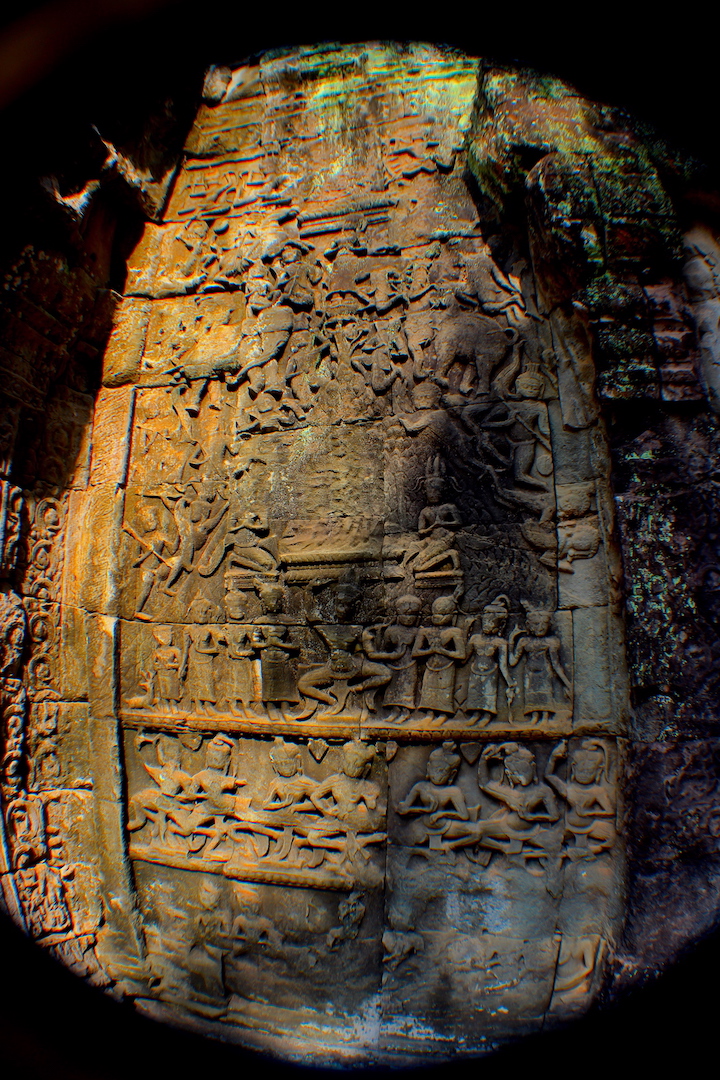 Insights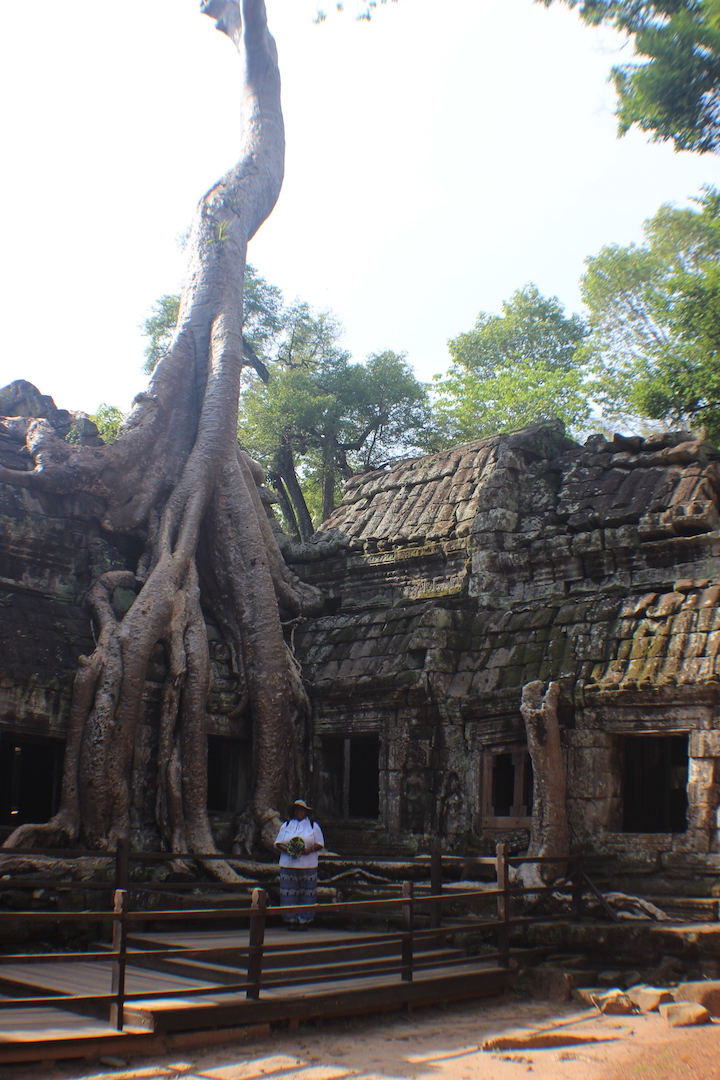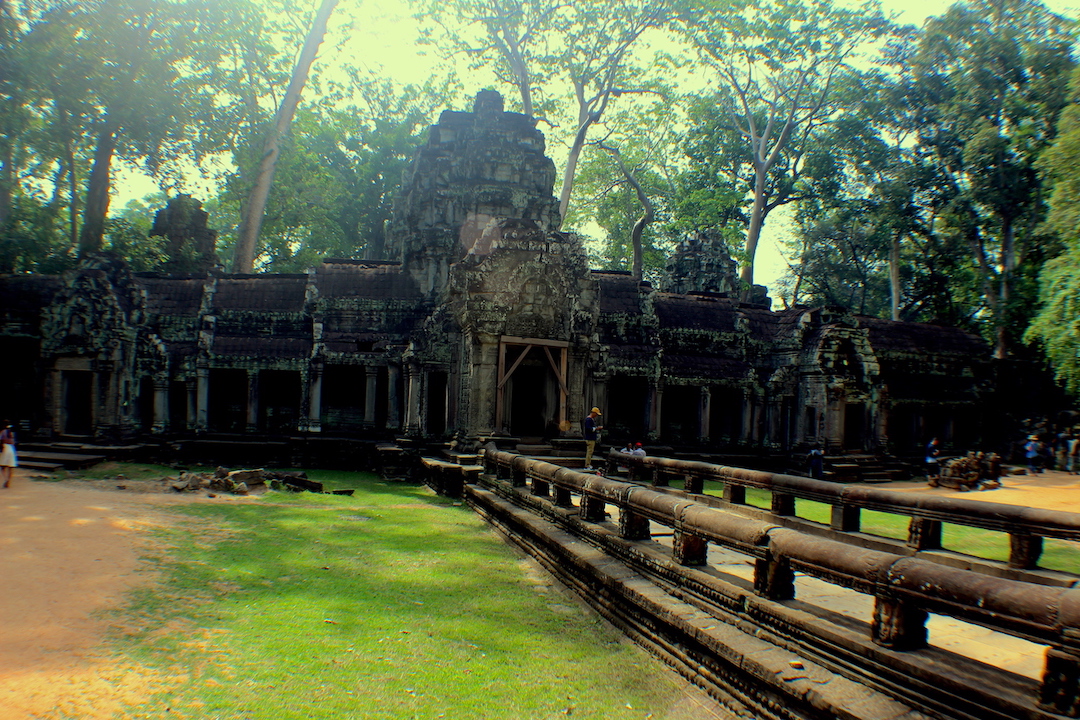 June, 2019

The part of the temple complex that interested me was Ta Prohm which has the banyan trees embedded in the rocks of the buildings. They are destroying the buildings. They have made great efforts to keep the banyan trees established but reinforce the structure so that it doesn't collapse. The buildings create dark shadows which make high contrast with the beating, glaring sun. It makes it hard to get a good camera exposure. Also the flora growth on the stones darkens the surface of the stones and absorbs light. Some of the photos show the extremely steep staircases.

Tickets are expensive to enter the park. You can get a room in town for $2.50 a night, but the one day entrance fee is $32 I believe. A three day ticket sets you back about $63. They prefer to get US dollars. Most places list prices in dollars. It was rare to see prices in Cambodian riel.


The dedication of the folks who built this complex of temples over the years was enormous. The civilization must have been rich and powerful. Then millenia later to discover these buildings in the jungle must have been mind boggling. What really made me think of this as a destination was the Disney movie Jungle Book which featured this setting as the background. Now as a tourist destination it is a money maker. They have dedicated some funds to preserving and rebuilding some of the ruins. They organize visits well to minimize impact. We were out at the site before first light to try and get the spectacular sunrise through the trees and reflected in the lake.
Sites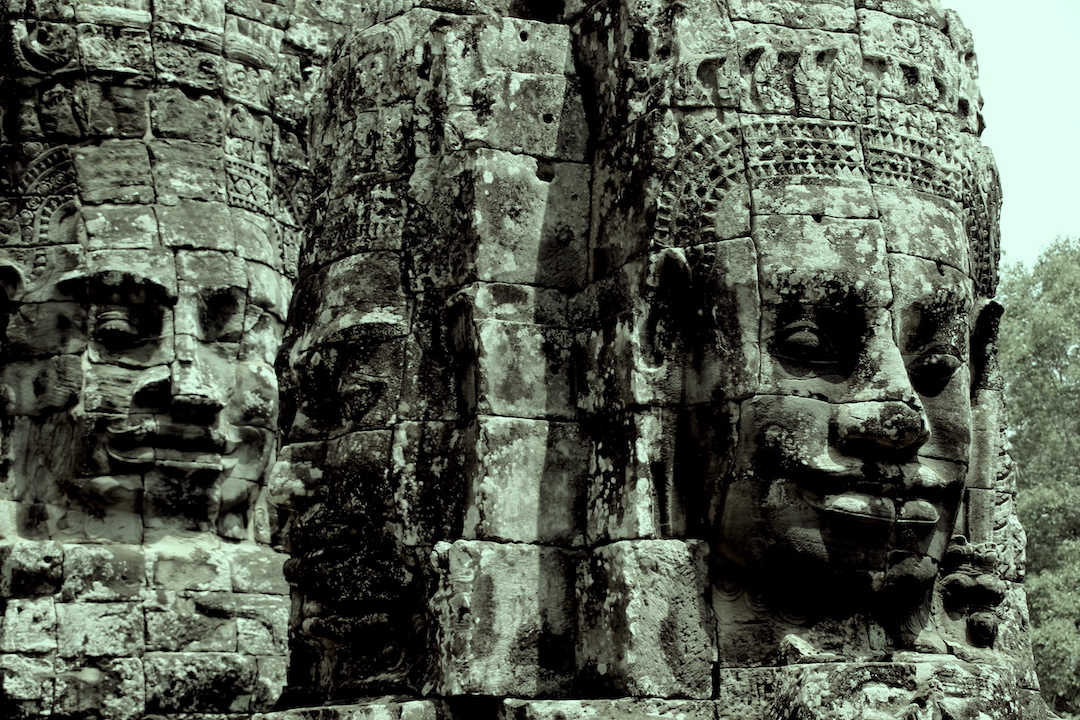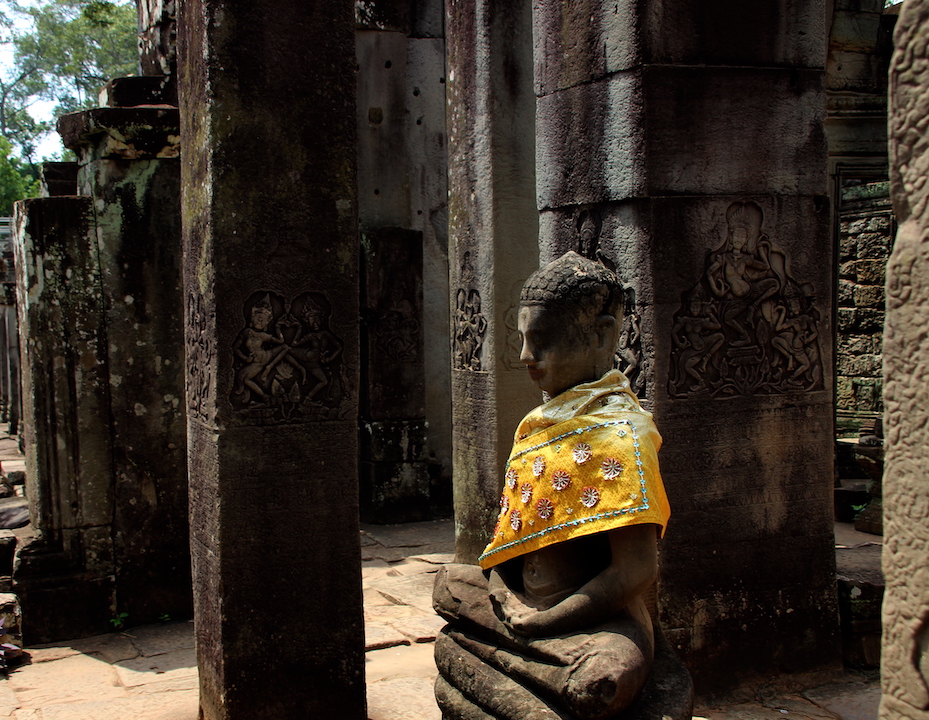 Insights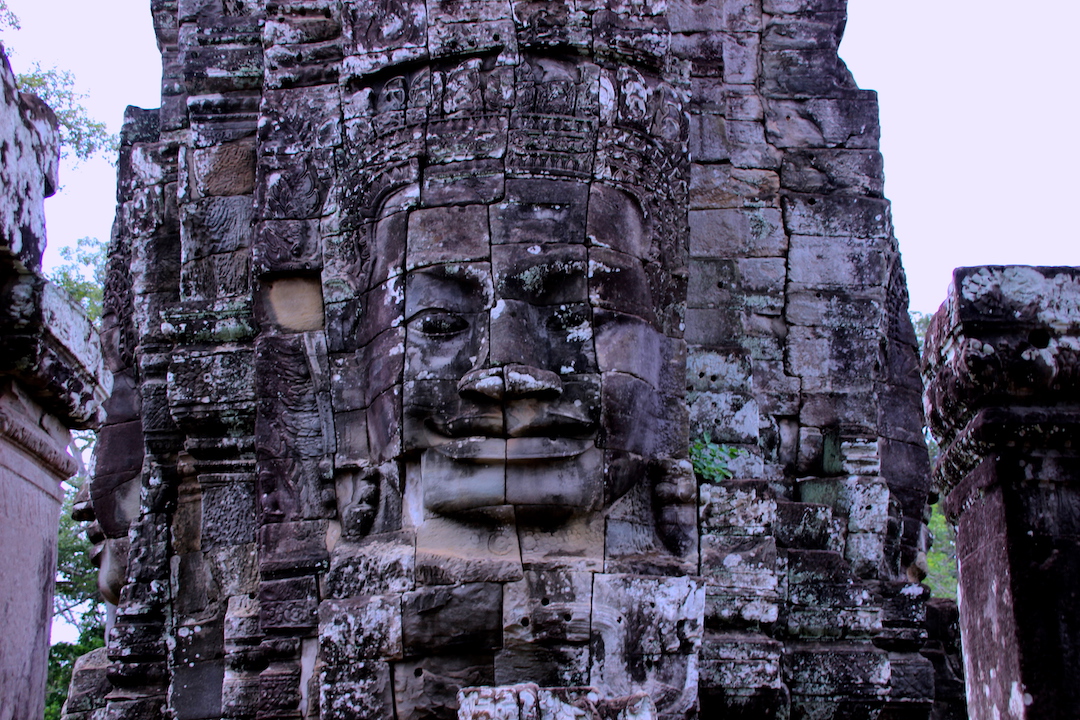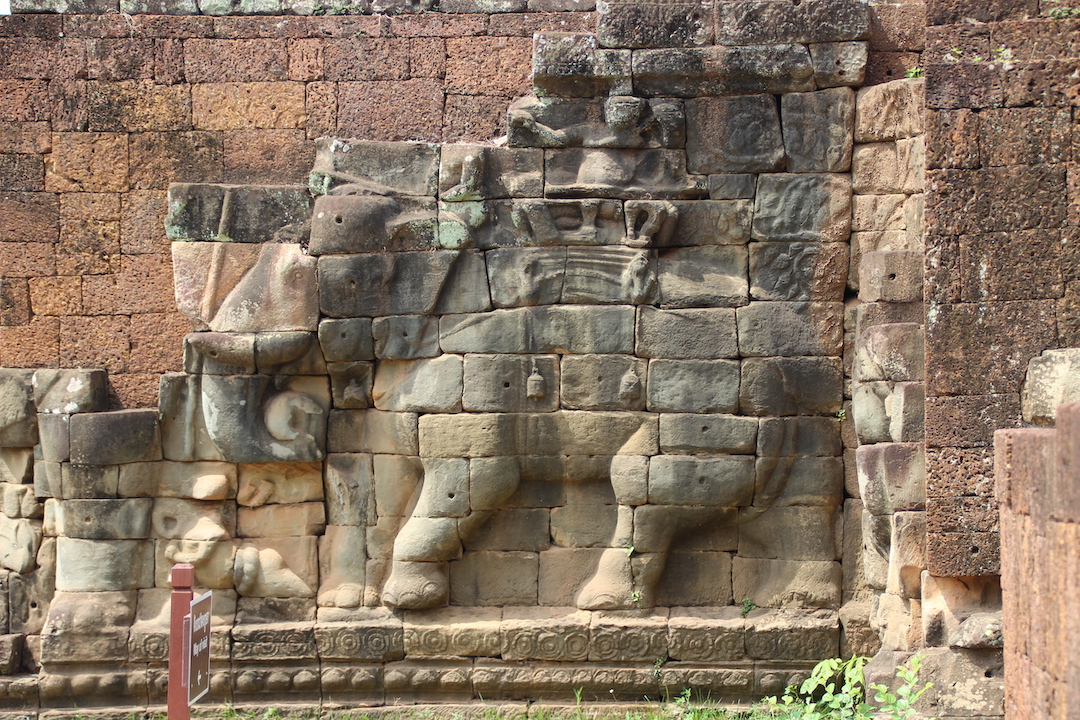 | | |
| --- | --- |
| | |
| FAVAngkorWat_8250.jpg | FAVAngkorWat_8258.jpg |
| | |
| FAVAngkorWat_8271e.jpeg | FAVAngkorWat_8273e.jpeg |
| | |
| FAVAngkorWat_8274e.jpeg | FAVAngkorWat_8276.jpg |
| | |
| FAVAngkorWat_8277.jpg | FAVAngkorWat_8290.jpg |
| | |
| FAVAngkorWat_8291.jpg | FAVAngkorWat_8303.jpg |
| | |
| FAVAngkorWat_8308e.jpeg | FAVAngkorWat_8309.jpg |
| | |
| FAVAngkorWat_8311.jpg | FAVAngkorWat_8312.jpg |
| | |
| FAVAngkorWat_8313.jpg | FAVAngkorWat_8314.jpg |
| | |
| FAVAngkorWat_8315.jpg | FAVAngkorWat_8316.jpg |
| | |
| FAVAngkorWat_8317.jpg | FAVAngkorWat_8319.jpg |
| | |
| FAVAngkorWat_8321e.jpeg | FAVAngkorWat_8325.jpg |
| | |
| FAVAngkorWat_8326.jpg | FAVAngkorWat_8330.jpg |
| | |
| FAVAngkorWat_8332.jpg | FAVAngkorWat_8335e.jpeg |
| | |
| FAVAngkorWat_8339e.jpeg | FAVAngkorWat_8345e.jpeg |
| | |
| FAVAngkorWat_8348e.jpeg | FAVAngkorWat_8352e.jpeg |
| | |
| FAVAngkorWat_8357e.jpeg | FAVAngkorWat_8384.jpg |
| | |
| FAVAngkorWat_8396.jpg | FAVAngkorWat_8410.jpg |
| | |
| FAVAngkorWat_8411e.jpeg | FAVAngkorWat_8416e.jpeg |
| | |
| FAVAngkorWat_8433e.jpeg | FAVAngkorWat_8434.jpg |
| | |
| FAVAngkorWat_8439e.jpeg | FAVAngkorWat_8440e.jpeg |
| | |
| FAVAngkorWat_8443e.jpeg | FAVAngkorWat_8444e.jpeg |
| | |
| FAVAngkorWat_8446e.jpeg | FAVAngkorWat_8447.jpg |
| | |
| FAVAngkorWat_8451e.jpeg | FAVAngkorWat_8457.jpg |
| | |
| FAVAngkorWat_8471.jpg | FAVAngkorWat_8478e.jpeg |
| | |
| FAVAngkorWat_8488e.jpeg | FAVAngkorWat_8494.jpg |
| | |
| FAVAngkorWat_2187e.jpg | FAVAngkorWat_2192e.jpg |